Design Trends and Inspiration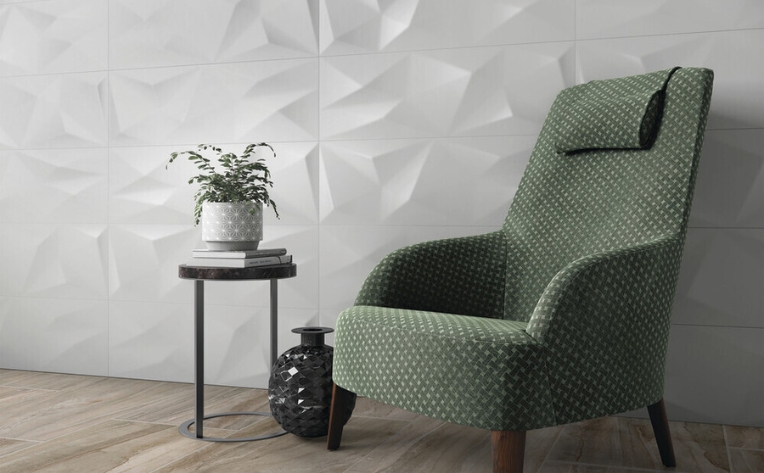 Jun 27, 2022
With so much to consider and so many options, picking out flooring for your laundry room can make you want to throw in the towel. Here's a list of flooring options that are durable, affordable, and fashionable to fit your laundry room.
You will need to pick out something that can stand firm against chemicals, water, and heavy foot traffic while meeting your personal design style, budget and cleaning needs. We will be evaluating each flooring option based on:
Stain-resistance

Water-resistance

Scratch-resistance

Affordability

Longevity

Maintenance

Aesthetics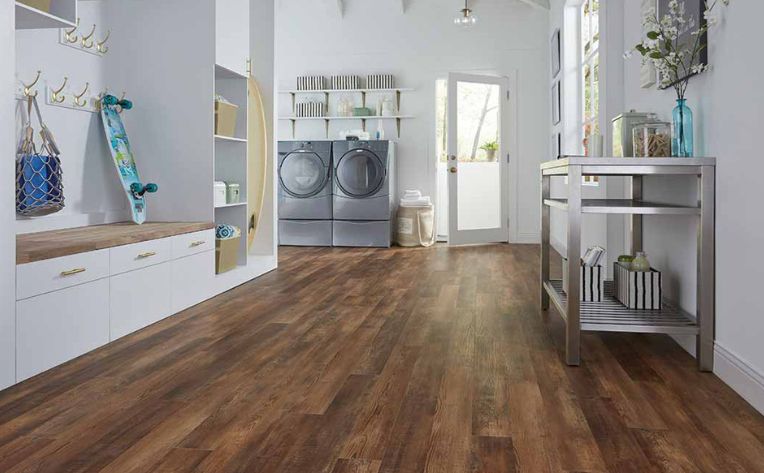 Given these factors, we recommend straying away from hardwood and carpet for your laundry room and instead deciding between Luxury Vinyl Flooring or Tile.
Why is Luxury Vinyl Flooring (LVF) perfect for my laundry room?
As a thicker type of flooring, this option is 100% waterproof, which makes it our best flooring option for wet areas like the laundry room, kitchen, and bath. You can choose from a variety of styles that replicate the look of hardwood, stone, and tile in an array of colors to help complement your existing home design.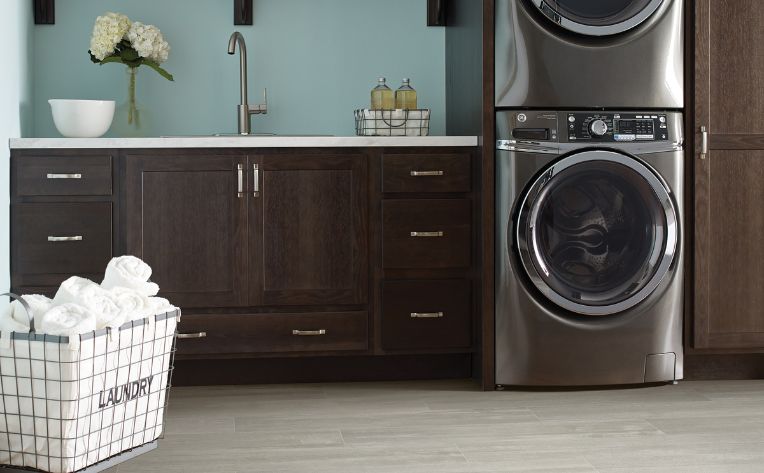 There are mainly two types of luxury vinyl: Luxury Vinyl Tile (LVT) and Luxury Vinyl Plank (LVP). The key differences are the design and shape. Each is designed to mimic either tile or hardwood planks. They are waterproof and can handle a lot of foot traffic since they are made of plastic layers. Engineered Vinyl Flooring (EVF) is a type of LVP that is more expensive—but with that extra cost comes extra strength and durability. Additionally, EVF is designed to look the most like real hardwood floors.
Installation can be low-cost, as some luxury vinyl floors are peel and stick. It's recommended to sweep your luxury vinyl flooring once a week to keep it in mint condition. Most spills and stains can easily be taken care of with a quick swipe of a washcloth. If you care for your luxury vinyl properly, it can last up to 20 years or more.
Overall, if you are looking for a modern feel with a modern solution that can handle the trials and tribulations of your laundry room, look no further than luxury vinyl. Browse different LVF options today to find the best fit for your home here.
Why is tile perfect for my laundry room?
For a timeless, beautiful finish for your laundry room that is moisture-resistant, consider tile. There are several types of tiles, each with a different look and feel. Tile can be broken down into two main categories: porcelain and ceramic.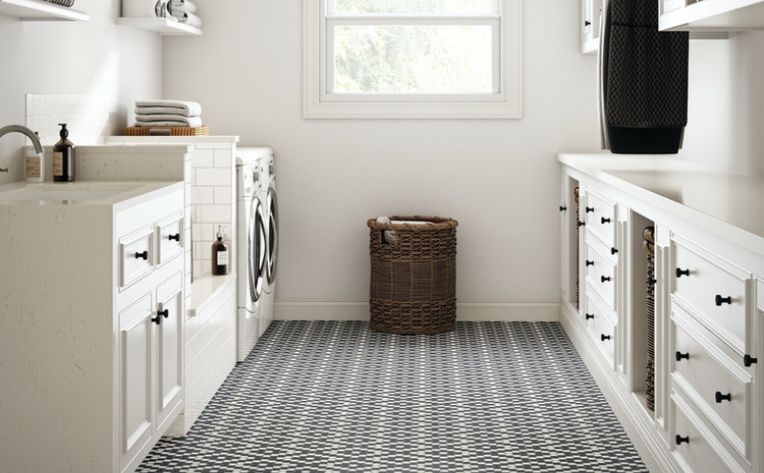 Porcelain tile is more expensive than ceramic; however, it is also more waterproof and scratch-resistant, making it superior in durability overall. Both are designed to be non-absorbent, easy to clean, and can last between 20–50 years. They also come in different patterns, textures, shapes, and sizes. Their diverse and custom nature can help ensure that you have flooring in your laundry area that makes sense not only from a long-lasting standpoint but also a stylistic one.
If you're interested in not having to update your laundry room floors every time the trends change, stick to a reliably classic tile floor. Check out the many options for tile, from ceramic to porcelain and even natural stone.

Both luxury vinyl and tile would work well in my laundry room. What should I do?
While you can't go wrong with either option and only you can make that ultimate decision, we can connect you with one of our Flooring America experts who will work directly with you to guide you towards what flooring is best for your laundry room. Let us share the load of responsibility and iron out the details—you've got dirty clothes to wash!
Continue Reading
Jun 24, 2022
Currey & Company Antibes Chandelier available at Lighting One; West Elm Calm Marsh Wall Art; One Kings Lane 3-Wick Candle Sea and Dune; Scout & Nimble Four-Hands Everly Sofa; Wire-Brushed White Oak Hardwood by Flooring America/Flooring Canada; McGee & Co Spring Wreath; Williams Sonoma Oversize Coral on Stand; Pottery Barn Molucca 62" Media Console in Madera Blue; CB2 Amato Rattan Dining Armchair; Tigressa Underspin Plus Tonal in Destiny
When it comes to the Cape Cod Coastal style, this seaside collection is all about sandy neutrals and coastal blues, capturing the appearance of a classic Cape Cod beach house. With furnishings inspired by natural elements such as beach wood, marshy shores, and aquatic blues, unique Cape-house styles blend with trending modern coastal to create an aesthetic that's purely New England.
Best Coastal Flooring Styles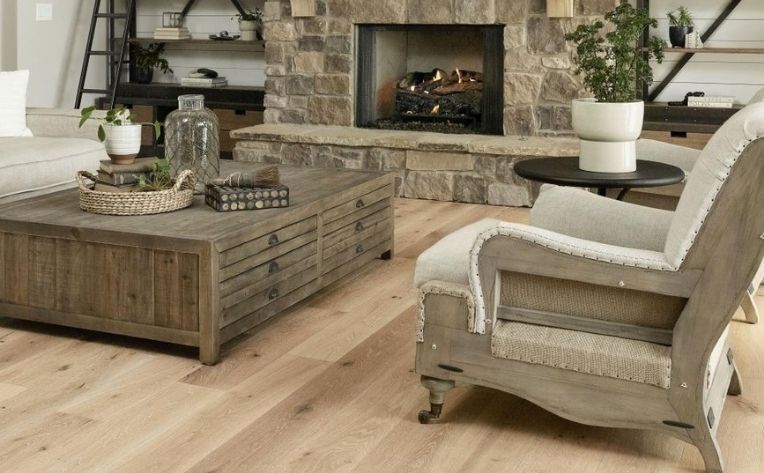 Floorcraft Coventry Oak in Crewel
When it comes to selecting a floor for your coastal getaway, choose lighter neutrals over dark colors. For instance, this light white oak engineered hardwood by Floorcraft features a striking wire-brushed wood floor with popular wide planks and a low-gloss to enhance its natural beauty. Plus, it's engineered for enhanced stability in high moisture environments so you can enjoy this gorgeous white oak throughout your home even if you have high humidity levels because you live right on the beach!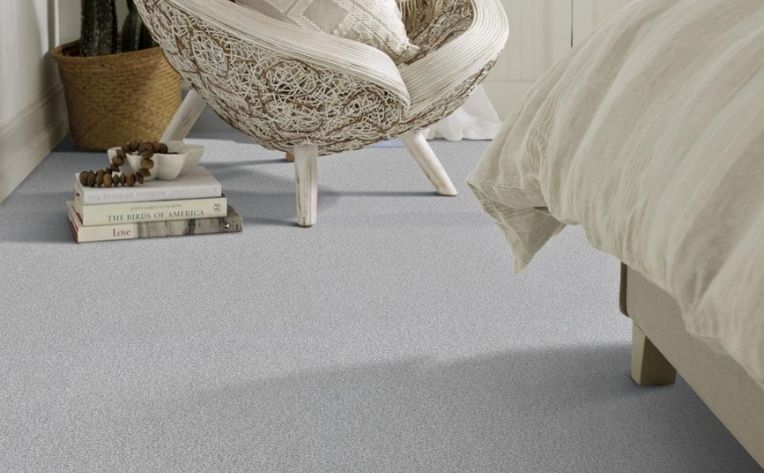 Tigressa Underspin Plus Tonal in Destiny
If you're looking for a softer floor underfoot that still fits in with your coastal design, check out our Underspin Plus by Tigressa SoftStyle. This textured Saxony carpet marries gray tones with blue hues to create a gorgeous color that's reminiscent of a stormy sea. Beautifully complementing your beach house decor with its blue undertones, this carpet has a luxuriously plush feel that's perfect for your modern coastal bedroom or living room.
What is a coastal design style?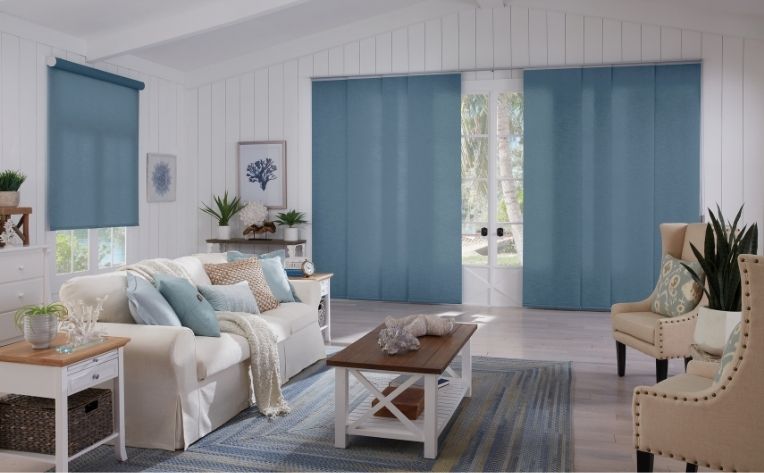 Graber Roller Shades
Coastal design style aims to blur the line between indoor and outdoor living since so much of it is influenced by the nature of the beach. Using lighter tones, coastal design creates a relaxed feel that embraces a casual, laid-back ambiance. There's an emphasis on quality over "showy" or "luxury" design with performance fabrics taking center stage in upholstery, furniture, and flooring so that the coastal design can stand up to the beach lifestyle.
Nowadays, when you hear about coastal design, you often hear it in reference to modern coastal design. But what is modern coastal design? Modern coastal design works to blend the elements of sleek minimalism with the warmer feel of coastal design. Combining coastal colors with clean lines, modern coastal gives a nod to the beach with its natural materials and textiles all while staying fresh, airy, and contemporary.
Elements of Cape Cod Coastal Design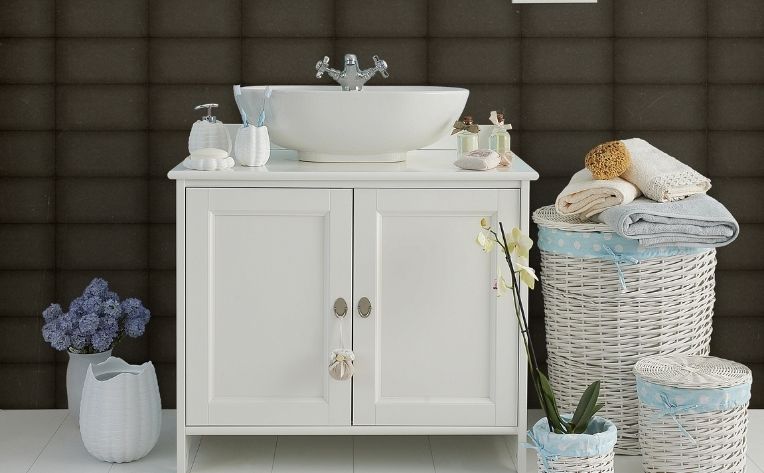 Ombre Graphite Gloss Ceramic by Emser
Elements of Cape Cod coastal style include the reflection of surf, sand, and sky throughout color and texture within your home design. The color palette for Cape Cod coastal is light neutrals with pops of blue, green, and navy influenced by the natural seaside. Incorporate a beachy design that consists of organic materials and fibers. These might come in the form of white oak hardwood floors, wooden beaded chandeliers, sisal rugs, or woven shades. Beachy decor should be your finishing touch with statement pieces like driftwood, old sailing rope, or seashells topping off the design.
Looking for more design inspiration? Check out our Flooring America design blog to read about the latest trends in flooring and home interiors.
Continue Reading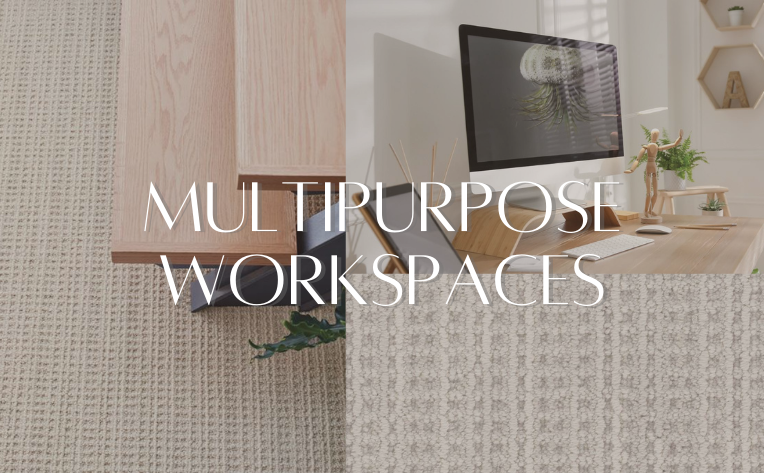 Jun 20, 2022
Since the beginning of the pandemic, working from home has only become more and more common. And while we are slowly getting certain parts of life back to normal, working from home is not something we see being taken away any time soon. From the lack of commute to the flexibility that remote work allows, many industries are recognizing the benefits of allowing their employees to do their jobs from wherever they see fit – and oftentimes, that means working from the comfort of their own homes.
If you are one of the many who works in a partially or fully remote position, you know the importance of creating a productive space within your home. Not everyone has the space for a home office, which brings us to one of our favorite interior design trends in 2022: Multipurpose Workspaces. This post-pandemic style puts emphasis on creating a workspace in your house that you can feel good about, that helps you relax and most importantly, that helps you be your most productive self.
Whether you have a home office or a coworkspace shared in your household, upgrading your space with floors that function well and feel good is the perfect way to elevate your work area, lift your spirits and amplify your efficiency on the job. Check out some of our favorite flooring products below to start creating your dream workspace at home.
1. Waterproof Carpet
Moonlight by Tigressa Cherish in Reflection
We know that more work from home time is inevitable this year, but that doesn't mean you should have to choose between comfort and productivity in your workspace. With the Tigressa Cherish Moonlight carpet in Reflection, you truly can have the best of both worlds. Enjoy the soft and comforting feeling underfoot as you go about your daily life, but rest assured that when it comes time to work, this remarkable waterproof and kid-proof carpet stands up to any challenge with special technology that resists fading and repels stains and odors.
2. Classic Hardwood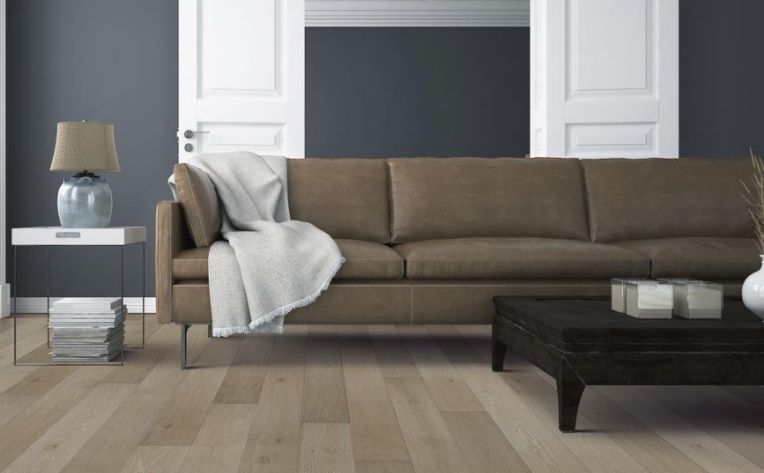 Oceana Estate – Oak in Surf by Aquadura H2O
If you're hoping to create the feel of a classic academic home office, hardwood is absolutely the way to go. With Oceana Estate – Oak hardwood by Aquadura H2O, you can get the productive feel of a library or office while skipping the imposing mahogany desk or wall to wall bookshelves. Plus, if your home office also happens to be your bedroom, living room or even kitchen table, this durable hardwood adds classic elegance that elevates your space no matter what purpose it holds. Ocean Estate – oak by Aquadura H2O is waterproof, kid proof and pet proof, and it comes in 8 different wood-tone hues making it easy for you to find the right shade for your multipurpose workspace.
3. Durable Laminate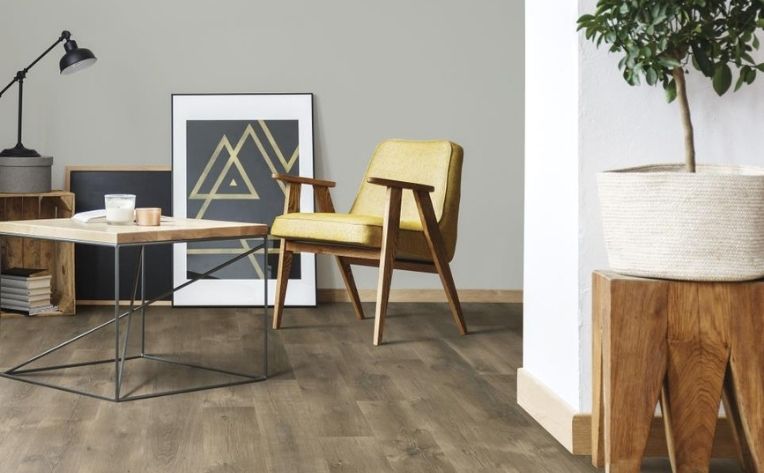 Mountain Lane Oak in Shoreline by Floorcraft Performance Flooring.
Are you looking for the distinguished feel of hardwood, but need something with a little less maintenance? Mountain Lane Oak laminate flooring by Floorcraft Performance Flooring is a great option. This durable laminate flooring offers the same warmth and elegance to your workspace that can be found with hardwood, but is also easy to install, waterproof, kid proof, pet proof and can easily handle even the most active lifestyles and workspaces. This is a great option if your home workspace is also your home gym, game room or just sees a lot of traffic in general. Mountain Lane Oak laminate by Floorcraft also comes in 5 different wood-tone hues and features a popular wide-plank design to truly mimic the look of weathered, aged oak.
4. Elegant Luxury Vinyl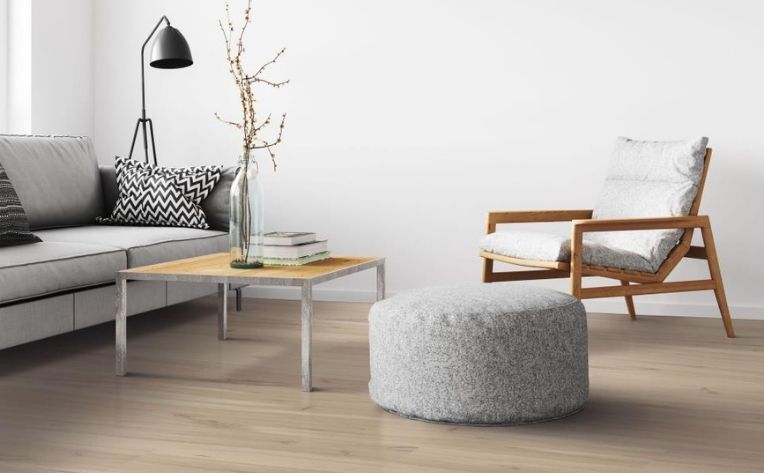 Mount Vista Premiere in Kaibab by Downs H2O
Another way to achieve the academic wood look without spending a pretty penny is by choosing an elegant luxury vinyl flooring, such as Mount Vista Premiere by Downs H2O. This extremely durable vinyl flooring comes in 7 different wood-tone hues and uses advanced imaging technology to capture the look of genuine wood in such perfect detail that you might even forget it's not actual wood! Mount Vista Premiere vinyl flooring is completely waterproof, while also being scrape and scuff resistant – perfect for an active lifestyle and for a workspace that sees higher volumes of traffic. With this stunning yet durable choice, you'll feel more productive than ever in your newly elevated multipurpose workspace.
With so many options to choose from, it can be overwhelming to decide which flooring solution is the best for your unique multipurpose workspace. Of course, we are more than happy to help. Consult the professionals at your local Flooring America for expert flooring advice, and check out our 2022 Style Watch list to read about this year's other top flooring trends and products.
Continue Reading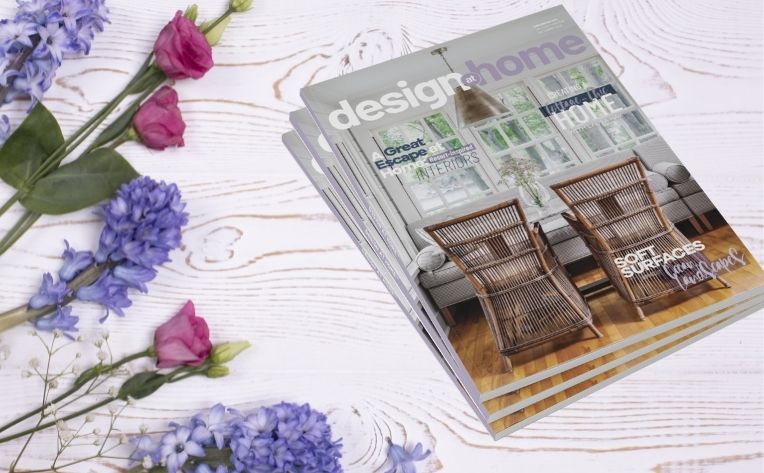 Jun 15, 2022
This season, we are exploring the impact your environment has on the senses and how unique regions and needs can evolve and affect home design. Arriving just in time for your summer vacation plans, the Great North American Road trip seeks family travel-inspired homescapes with a tips section on how to incorporate your travels into home design and a family-friendly flooring guide detailing the best floors for your summer lifestyle.
8 Tips to Incorporate Travel Into Your Home Design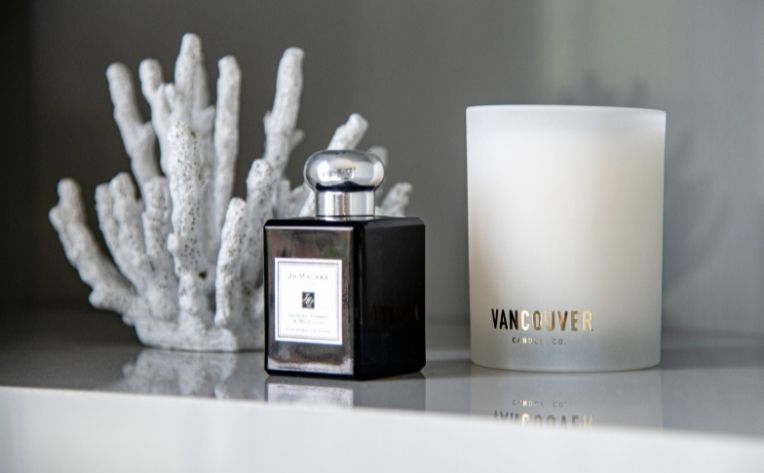 Design by Diana Rose | Photography by Mike Chajecki
Bring faraway destinations into your home design with these eight tips on how to incorporate travel inspiration as decor. Whether you've collected handmade artistry from your travels or are looking for a way to display your exotic tea collection in the kitchen, this article has the top tricks for infusing your travel-inspired decor.
Resort-Inspired Spaces
This stunning spread on resort-inspired places looks at how you may combine resort-style looks and resort accents into your daily life. With professional interior designs highlighting each trend, these five exquisite concepts explore luxury bedrooms, spa bathrooms, outdoor showers, restaurant dining, and open-air living.
Renovating a Townhome With Margarita Bravo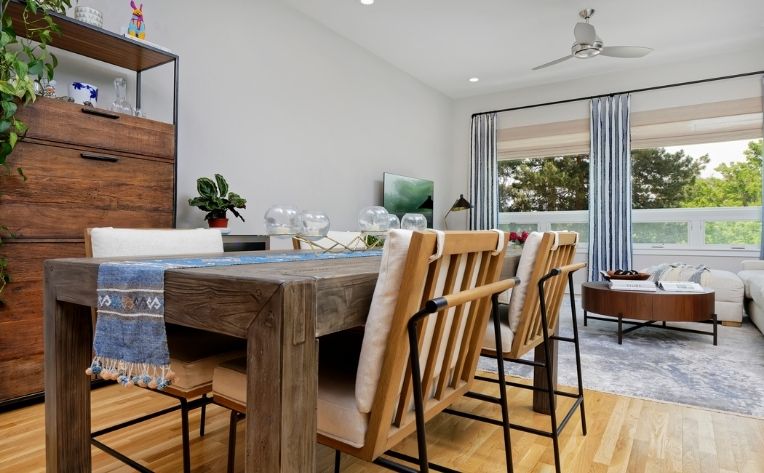 Design by Margarita Bravo | Photography by Zach Cornwell
Margarita Bravo gives us a behind-the-scenes look at the design of a Denver townhome restoration in this exclusive interview. Her unique use of color flows throughout the design, and she discusses how to incorporate individuality into your design using wallpaper, furnishings, and color.
Styles We Love: Tranquil Styles to Cool Your Summer
This summer's style spotlight is the peaceful remedy you need to escape the heat, with everything from Boutique Hotel to Rustic Cabincorel. Boutique hotel has a modern-chic vibe with a touch of art deco, and colors are explored through wall art, tiling, and furniture. Cape Cod Coastal, on the other hand, evokes a Cape Cod summer with furniture inspired by natural beach wood, coral reefs, and aquatic blues. Finally, there's Rustic Cabincore, which is ideal for those looking for a place to get away from it all in the mountains. Combining the trendy sage green with wood tones to create an eclectic cabin vibe, Rustic Cabincore encourages serenity and tranquility in design.
Family-Friendly Flooring for Your New House or Vacation Home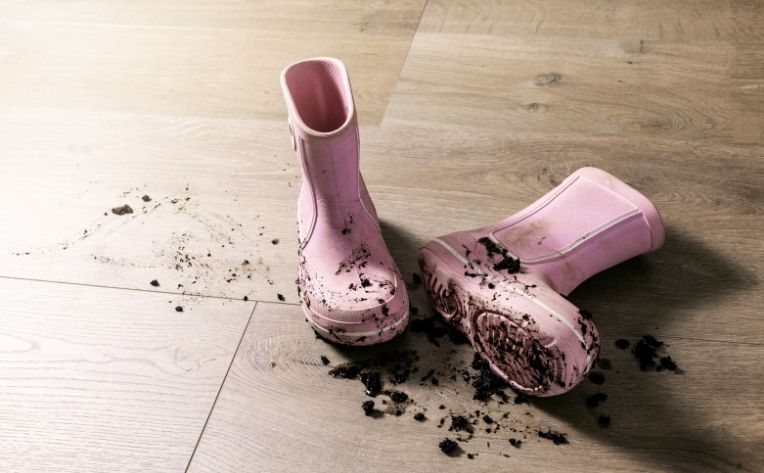 Our first flooring feature focuses on family-friendly floors for your vacation home or new home remodel, with products from our Flooring America catalog that are stainproof and waterproof. If you're in the middle of a home renovation or just bought a new house for your family, this flooring feature is the perfect guide and will help you find the best products for busy families that want mess-proof flooring.
What's Your Summer Flooring Vibe?
Five summer mood boards are included in this fun Buzzfeed-Esque quiz to help you pick the ideal floors for you. Have fun taking our personality assessment and find the perfect floors for your summer vibe with options like Adventurous, Natural, Beachy, Vibrant, and Motivated.
Soft-Surfaces Inspired by Ocean Landscapes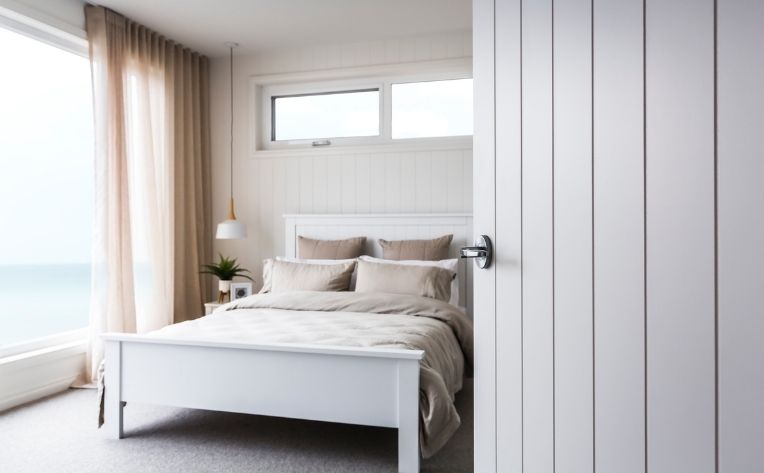 Our second flooring feature looks at how to use carpet and area rugs to create a relaxed atmosphere. We have the product recommendations you need from our Flooring America catalog to infuse your home with ocean-inspired colors and patterns, from tropical blue carpets to warm, golden-sun area rugs.
Good Things Come in Small Packages
Written by Trisha Isabey
Trisha Isabey demonstrates how to utilize your space in compact living quarters in this exclusive designer feature. We can all agree that having a livable area that feels big enough for you is crucial, whether you live in a condo, an apartment, or a townhome. Isabey offers advice on everything from utilizing natural light and views to simplifying built-ins and maximizing negative space.
Creating a Cottage-Chic Home
Written by Laura Hay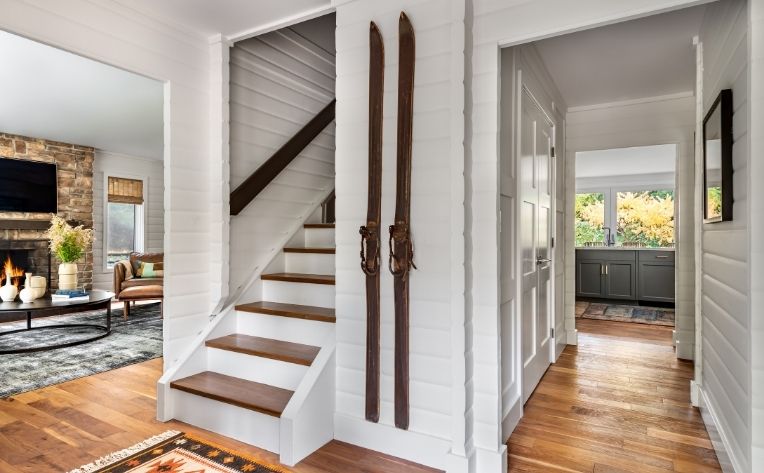 Design by Laura Hay | Photography by Gillian Jackson
Last but not least, Laura Hay delves into how to style a "cottage chic" home. Hay is a cottage-style design guru with multiple projects under her belt, and she shares her best advice. Natural wool, raw stone, and organic textiles, as well as cottage-style décor and focal points, are among the elements she recommends. She also gives tips on how to transform your current home decor into one that is more cottage-style.
Did any of these articles pique your interest? If you're looking for more design inspiration, check out the live issue of Design at Home!
Continue Reading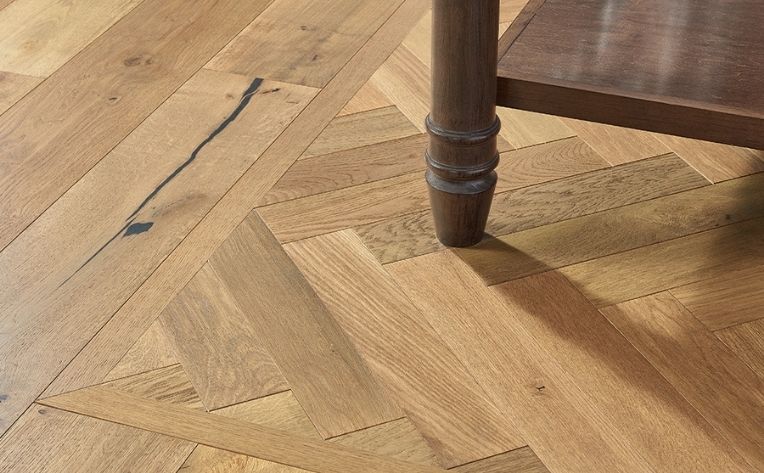 Jun 13, 2022
What are my options for hardwood floor patterns?
We get it. The number of choices you have to make when planning your flooring project can be overwhelming. Once you've decided on hardwood flooring and found the stain you want, the thought of having to make another decision about the layout may make your head explode. But the wood flooring pattern is just as important as the stain of the wood in how much it can impact the appearance of a room. Here are some of the most popular wood floor layout patterns:
Parquet
Herringbone
Chevron
Straight
Diagonal
Random
Basketweave
We'll take you through a breakdown of these hardwood flooring pattern options to help ease your decision.
What is parquet flooring?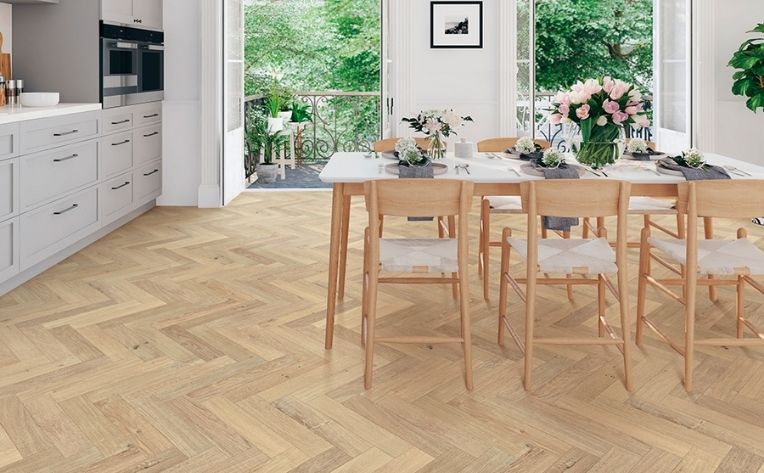 Parquet flooring is when wood planks are cut into smaller pieces to create repeating patterns on a floor. Basically, any floor pattern that is not parallel is a parquet floor. Chevron, herringbone, and basketweave wood floor patterns are all types of parquet flooring.
What's the difference between herringbone and chevron?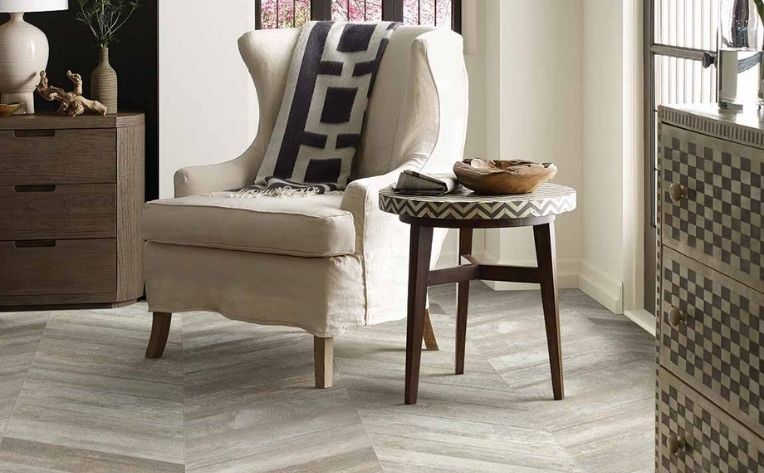 Both herringbone and chevron are zig-zag flooring patterns, so they may look similar from afar, but they are different, and choosing one or the other can change the vibe of a room. Both styles are cut into shorter planks, but chevron is cut at a 45° angle, while herringbone is cut perpendicular, meaning herringbone planks are rectangles. This allows chevron to have a continuous zig-zag pattern, while herringbone has an interlocking zig-zag pattern. One benefit of chevron is that the continuous zig-zag pattern can make a room appear larger and more modern. Herringbone gives a more rustic, classic look, so it's perfect if you're into farmhouse or contemporary aesthetics. Both styles have been used for centuries, and they're not going anywhere—so they're worth the investment.
If you're into the zig-zag look, read our blog post detailing the difference between herringbone and chevron. Make sure to consider both style and cost and weigh what is most important to you. Depending on your budget, you may not be able to get the hardwood material you want and the pattern of floor you want. Choosing between style and cost may not be a compromise you want to make. But the good news is, if the hardwood chevron pattern is out of your budget, you can achieve the same look with vinyl or laminate flooring—that way, you get the look of wood and the chevron pattern without having to break the bank.
What if I want a simple pattern?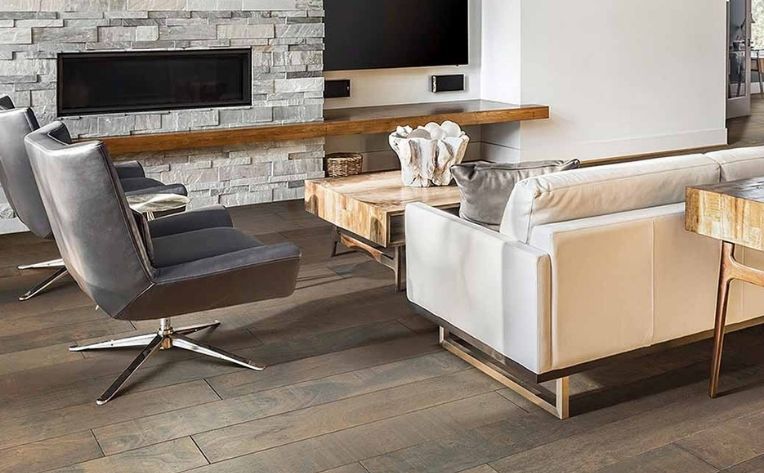 A classic, inexpensive option for your hardwood floor layout is a straight pattern. If you want to make the room look bigger, the planks should be installed parallel to the longest wall of the room. When using a straight floor pattern, you want to make sure to stagger the planks so that the edges are spaced far enough apart. A good rule of thumb is to stagger by a distance of 2–3 times the width of the planks.
How does a diagonal floor work?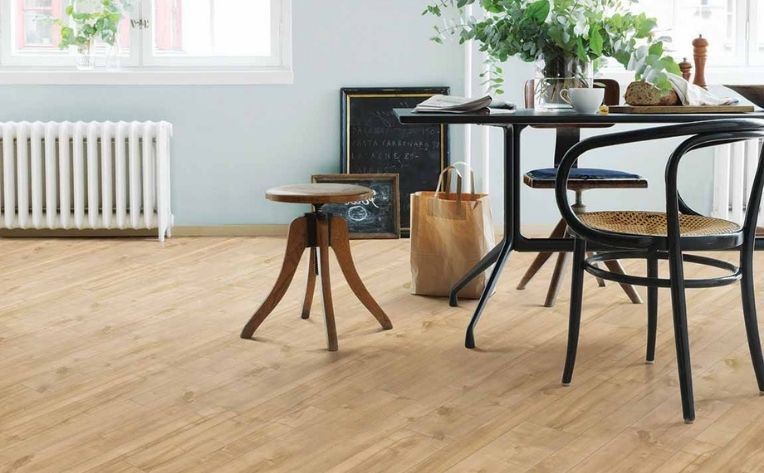 A fun alternative to a straight wood floor pattern is a diagonal one. This is the same as a straight pattern, except it's diagonal instead of parallel to the walls. It will be slightly more expensive than a straight pattern because the planks will need to be cut at an angle where they meet the walls.
Is a random floor pattern really random?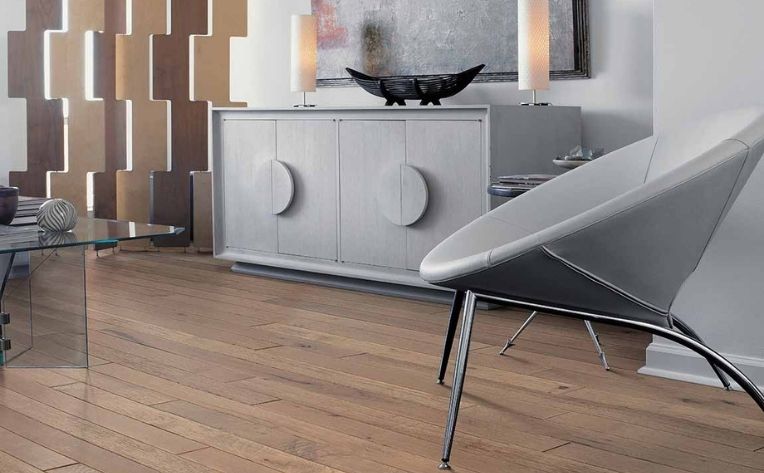 You may hear "random" pattern and think that it would make your room look messy, but that's actually not the case. "Random" doesn't really mean random. A random layout means hardwood planks of different lengths are laid parallel. Many hardwood floors use random layouts, where the planks run in the same direction, as it's one of the least expensive installation options and doesn't require cutting the edges of the wood planks at different angles.
What is a basketweave hardwood floor?
A basketweave floor pattern looks exactly the way it sounds—the "weave" is made up of squares of small parallel planks of wood. Those squares are laid out perpendicular to each other to create the basketweave look.
It can be hard to decide on a wood floor pattern, but your local Flooring America experts are here to guide you. They're happy to help with all your projects, and it's always a great place to start one, so visit yours today!
Continue Reading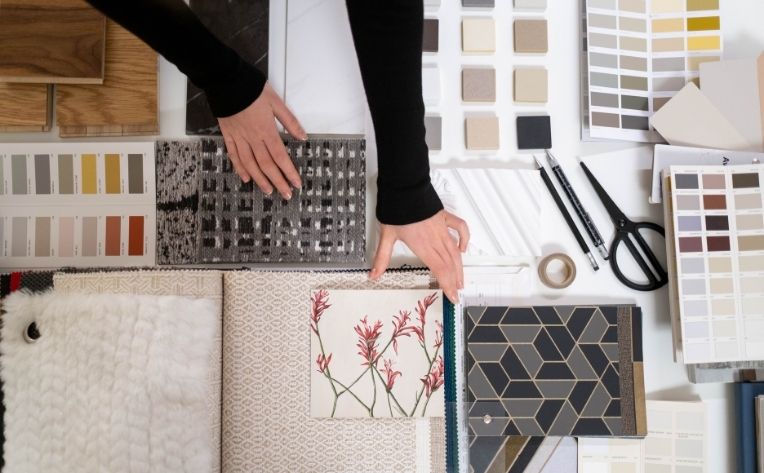 Jun 06, 2022
Planning a room makeover can be overwhelming, especially if you're designing a whole new home. If you're feeling lost when planning your room redo, a mood board is a great way to get started. Not only will it help you figure out what you're looking for, but a mood board gives you a chance to envision the kind of space you want to create.
So, what exactly is a mood board? Essentially, it's a collage of images used for inspiration. The point of a mood board is to help you figure out the style, colors, aesthetic, and feel that you're going for—all of which contribute to the mood of a space—hence "mood board."
1. Plan the Aesthetic before Buying
Mood boards are not used for just finding all the pieces that you want in a room. That's the next step—and you don't want to jump ahead. The mood board should come before you purchase anything for the room, and once you've nailed down the aesthetic you're looking for, you can start to shop.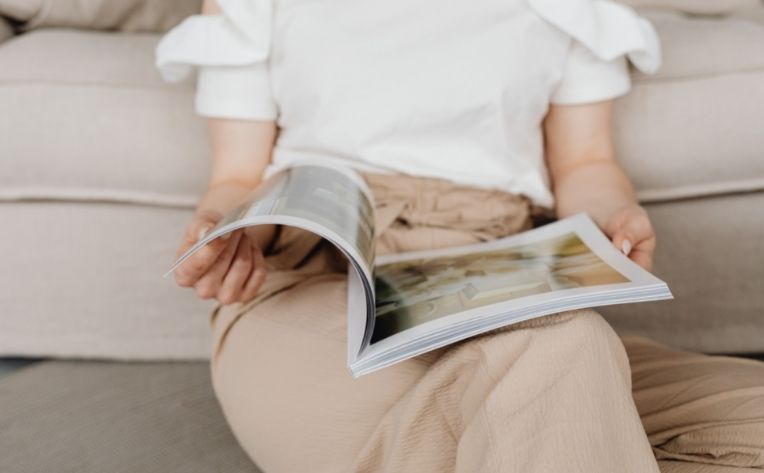 2. Consider the Styles You Like While Mood-Boarding
Whether you like mid-century modern décor, you want to channel your inner coastal grandmother, or your kids have been begging for a mermaid-themed bathroom, a mood board will help you plan it out. If you know the name of a certain style you like, it can be easier to search for and find imagery that matches what you're looking for.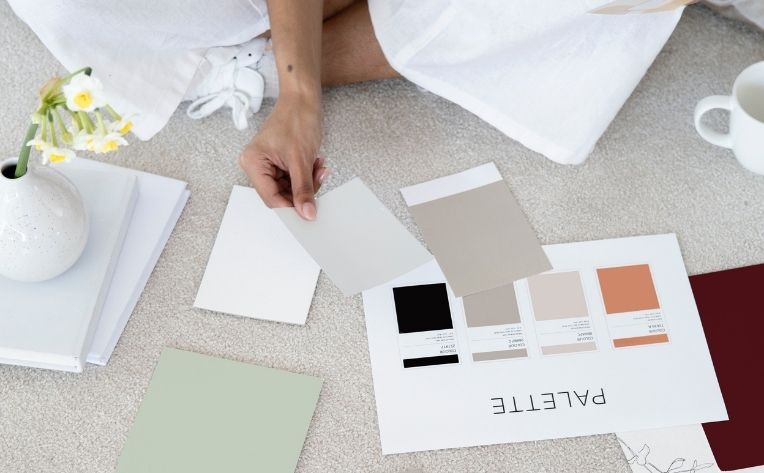 3. Don't Plan a Room around One Piece
By determining the design direction before you start an interior design project, you can avoid the struggle of committing to a floor, wall color, or piece of furniture you love and not being able to match the rest of the room to it. You know, when you buy a shirt you love, but you can't find the pants to wear it with? You don't want that to happen with an expensive couch or carpet. There are so many components to consider when designing a room, so you don't want to jump the gun. Make sure that the floors, wall colors, window treatments, lighting, furniture, and art all work together. Creating a mood board and then matching the pieces to the aesthetic of the mood board will ensure that you don't have to spend the time and money to replace a piece that just isn't working.
4. Go Old-School
There are a few ways you can construct a mood board. You could go the old-fashioned route and make a physical mood board by scouring interior design magazines and catalogs for inspiration. You can even order physical samples of flooring from our Sample Box program at Flooring America, allowing you to test out the flooring swatches against your own lighting and existing décor. By looking for inspiration this way, you can keep an open mind to different styles and possibly find a new aesthetic that's perfect for you. It can also be fun to get your family or partner to join you in this mood-boarding endeavor. However, we get it if the thought of paper clippings everywhere and the smell of glue may deter some folks from this method.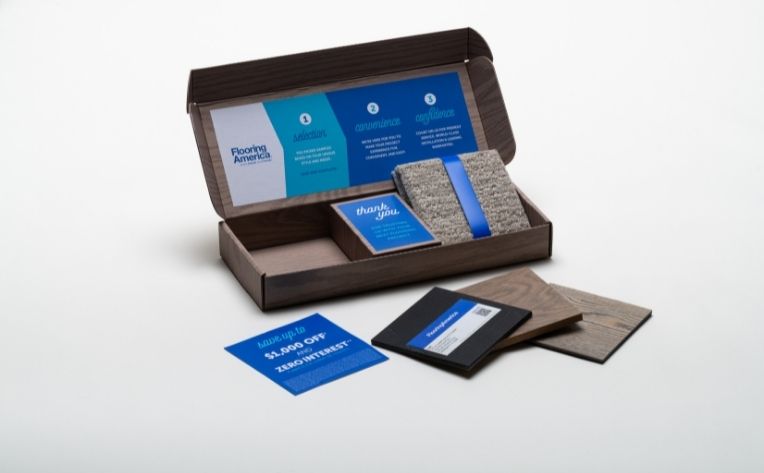 5. There's Also an App for That
If you're not into the hands-on, crafty method, a great online option for creating a mood board is Pinterest. There, you can "pin" images of furniture, décor, fabrics, colors, and full rooms to your digital board. And if you're planning multiple rooms at once, you can create a different board for each one.
The great thing about making a digital mood board with a platform like Pinterest is that when you click on something you've "pinned," most of the time, it will take you to the site where you can buy that sofa, paint color, carpet, or window treatment. That way, when you finally start your project, not only do you have your mood board for inspiration, but you also have it as a guide on where you can find those items.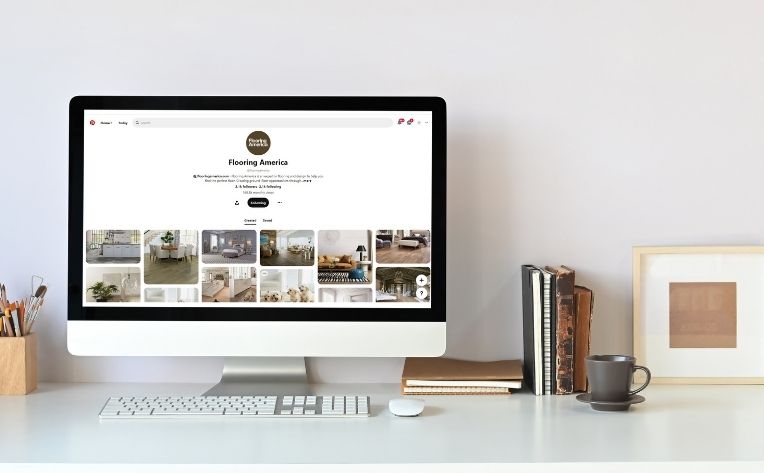 Once you figure out what method you want to use to make your mood board, you can compile images of rooms you like, furniture pieces, rugs, floor types, curtains, artwork, paint swatches, lighting fixtures, and other room accessories.
A mood board is a great way to start any interior design project, and your local Flooring America experts can help you execute your dream home. Check out our Pinterest for design ideas and mood board inspiration today!
Continue Reading